Introducing Churchmarketplace
for the Church, by the Church
What is the purpose of Churchmarketplace?
Churchmarketplace has been developed by the Church in response to a need expressed nationally by Dioceses and their Bishops to help members of the Catholic community work together to reduce costs.
Discounts have been negotiated with a wide range of suppliers enabling Churchmarketplace to provide access to a large number of competitively priced products and services, including telecommunications, computer hardware and software, health and safety equipment, stationery and school supplies and a free catering procurement service.
There will be significant benefits to being part of "something larger" and helping each other, especially the smaller members of the Catholic community. This will be achieved by acting together to negotiate lower prices.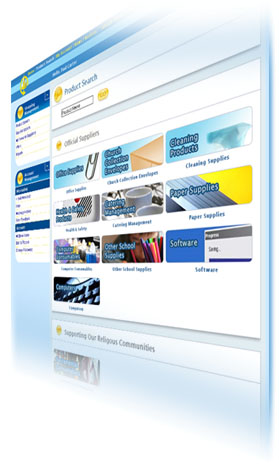 Who owns Churchmarketplace?
Churchmarketplace is owned and operated on a not-for-profit basis by The Catholic Church, as represented by the Dioceses of England and Wales, and is endorsed by the Catholic Bishops' Conference.
Why become a member of Churchmarketplace?

Benefit from consistently lower prices and high quality products and services from a range of selected suppliers.
Help smaller charities, parishes and schools in the Church community achieve cost savings.
Choose the products and services you need through the secure Churchmarketplace portal.
Support our Religious Communities.
Promote and recommend businesses that have proven themselves as suppliers to the Church.
Who can become a member?
There are two options:

Organisational Membership – open to Catholic parishes, schools, religious orders and organisations
Personal Membership – open to employees of Catholic parishes, schools, religious orders and organisations who are already members of Churchmarketplace
How do I become a member?
Registration is free and is available to Catholic parishes, schools, organisations and their employees. Click here to register now.
How do I place an order?
Once logged on as a member, click on 'product search' and go through to the supplier's website where you will be able to place your order. Most of our Official Suppliers will provide the option of buying either online, via a catalogue and/or via a dedicated phone line. If ordering by phone, members must identify themselves as part of Churchmarketplace in order to receive their discounts.
How is payment made?
Suppliers will invoice Organisation Members (parishes, schools, organisations etc.) and credit card payment is made by Personal Members (employees of those organisations). Payment is made directly to suppliers.
How does Churchmarketplace choose Suppliers
Suppliers listed on Churchmarketplace provide a combination of competitive pricing, timely delivery and high quality customer care aim is to endorse excellent suppliers at a national and local level and members are encouraged to recommend suppliers who have served them well.
There are 3 categories of suppliers:
Official Suppliers
These suppliers have been through a thorough vetting and endorsement process by the Churchmarketplace Team who have stressed the specific needs of our Community, negotiated discounts and put formal contracts in place.
Religious Communities
Churchmarketplace is committed to supporting the 'cottage industries' of our religious communities.
White Pages suppliers
These suppliers have been recommended by our members and have not been through the same vetting process as the official suppliers.